I ordered Charlie's announcements yesterday from Shutterfly. Not to sound like a commercial for Shutterfly, but I looked EVERYWHERE else, even created several announcements on several different sites. Then you get to the end and they want $12 for shipping, envelopes are seperate cost, of course the paper I choose was "premium" paper and wasn't included in the quoted price...blah...blah....blah....And we need ALOT of announcements!
My mom has always told me I have champagne taste on a beer budget...and I couldn't agree more! I just couldn't justify spending that much money. Then I found Shutterfly. I think they are pretty darn cute, maybe it's the subject!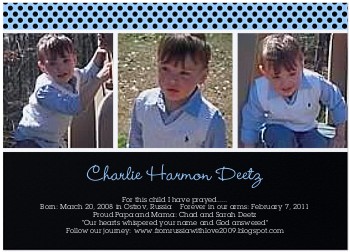 Licorice Dot Blue Baby Announcements
Here is our announcement!